'Bongets,' 'Bigote' deny pork barrel misuse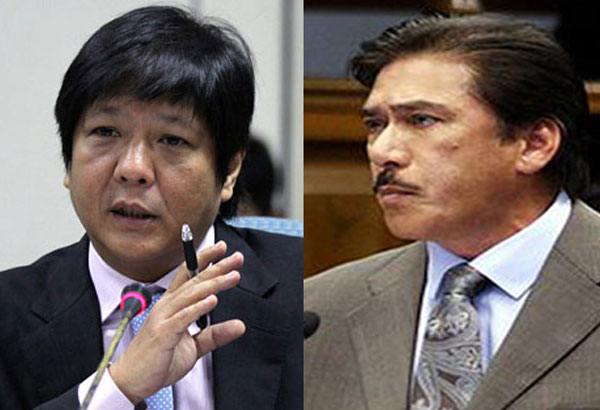 MANILA, Philippines - Sen. Ferdinand "Bongbong" Marcos Jr. and Sen. Vicente Sotto III downplayed on Wednesday reports that they will be included in the next batch of respondents, which the justice department will soon file in connection with the pork barrel find scam. Sotto said he does not care whether he will be implicated in any pork barrel-related complaint in the near future because he believes that he has not misused his allocations. He also denied having any dealings with new prospective government witness Ruby Tuason, adding that the issue has gone out of proportion and that many innocent personalities have been dragged into the controversy. Sotto reiterated that he did not misappropriate his Priority Development Assistance Funds (PDAF) in 2012.
If for the sake of argument he had placed PDAF to certain groups, Sotto asked whether it would be his duty to even account for every centavo released to the group/s. Marcos and Sotto were reacting to reports quoting lawyer Lourdes Benipayo, who claimed other senators are involved in the controversy. Marcos earned the code name, "Bongets" while Sotto is dubbed as "Bigote". Sen. Loren Legarda, who had been dubbed as "Dahon," has not issued any statement but she had early on denied any wrongdoing in the use of her PDAF.
In a previous interview, Legarda said she had not placed pork allocations to non-government organizations (NGOs). For his part, Marcos said the issue is "old news" as he belied reports of pork barrel fund misuse, which first came out at the height of the controversy last year. Marcos did not discount the possibility that some people are behind the smear campaign. "Maybe, there is somebody who is against me. It's the old reports of last year. I answered this on September or October. Sinagot ko na yan eh," Marcos said. "The point is it is not really… it's an old story, an old issue. Nasagot na namin yan. We have answered that satisfactorily. We have answered it sufficiently." Marcos was sure that dirty politics could be behind the moves to implicate him in wrongdoing in his PDAF allocations. "Lahat ito may kinalaman sa 2016. I have said this many times, one should not decide today on what one will do on May of 2016," Marcos said. Pressed further if he had plans to run for higher office, Marcos said he will decide whether to ran for re-election or for a higher post once the Commission on Elections (Comelec) starts accepting certificates of candidacy for the 2016 national elections. That would be on November 2015 or six months before the elections. "That's how it is. Whatever I decide to do… just like all candidates, they will decide just before the filing (of candidacy)," Marcos said. "Look, it does not make any difference. Like any important decision, you get all information that you can so that you can make the good decision that you can. If I say now I decide, many events will still happen and those things will influence your decision. It is just very poor decision so long before filing," Marcos said.