2 People killed in Albay Bus Accident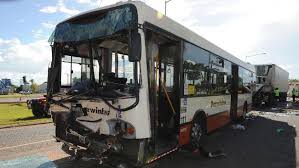 LEGAZPI CITY, PHILIPPINES Two children died and 35 others were injured when an out-of-control bus rolled down a slope along the highway in Kimantong, Daraga in Albay on Sunday. The fatalities were identified as Baby Jane Abrigo, 12, and a still unidentified boy around 11 years old, according to Superintendent Joel Adan, chief of Daraga Municipal Police Station.
The Dondon Liner bus, with plate number 052410, had about 38 passengers on board and was traveling from Sorsogon City to Legazpi City. "According to our preliminary investigation, the bus lost control at the slope due to loose brakes," Adan said. Adan said the driver, named Romel Janer San Buenaventura, 43, of Pamuratan, Sorsogon City, suffered minor injury and was now held by the Daraga police to face charges of reckless imprudence resulting to homicide. The still unidentified injured passengers were rushed to the Bicol Regional Training and Teaching Hospital in Daraga while one was brought to the Estevez Memorial Hospital in the nearby Legazpi City, he said. One of the survivors, Sonny Acuṅa, 44, from Castilla, Sorsogon, told the Philippine Daily Inquirer that when he noticed that the bus driver could not control the bus gear, he immediately prepared himself and held the hand grip above his chair. "I think the bus was moving only at 40 kilometers per hour when it rolled down the slope," he said.