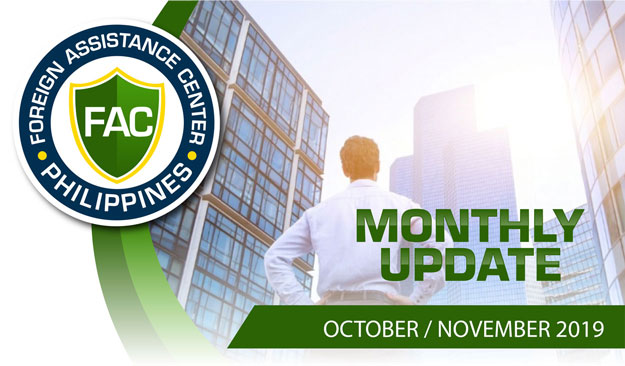 We welcome foreigners to visit the Philippines - work here, live here, study here, retire here, we welcome aliens as long as they comply with our laws - Follow our laws or face deportation. This said BI Commissioner Jaime Morente on 10. OCT 2019 because in October 2019 was arrested or deported over 500 Foreigner.
We advise to all Customer follow the Philippine Law and search for accredited agent or Lawyers.
NOTE – that our Landline No is now +63 (2) 87904547 (Gateway Tower only) and (2) 8 7107710.
You can order by PHLPost among other things STAMP and STAMP_2 in Oct / Noc 2019.
The BI Main Office temporary don't used "Visa Stickers". We advice take care to original OR with printed valid Visa and Signature. NOTE – without OR NO Departure ! (only BI Main office)
The final adjudication will be follow ASAP regarding DOLE Advisory No 19-08. Read Link DOLE
NOTE – that all Application regarding new "Special Work Permit" (SWP) change the Application & Requirements & process.
Regarding Inquiry about "QUOTA VISA" in 2019 follows - European Countries Citizen are available until first week December 2019. NOTE – that Application with received stamp by no later than Friday 6. December 2019 will be valid Visa in Passport 2019.
Information in favor of small and medium-sized Companies – We verify your Qualification for 9(g) Visa carefully direct by Law Enforcement Officer by DOLE.
NOTE – in Metro Manila change the TIN process for New Employee.
NOTE - some few City Hall's in Metro Manila change process for verified Mayor Business Certification.
Reminder – before you process by Securities and Exchange Commission (SEC) increase of Stockcapital (Amendment) , you must process "Monitoring"
NOTE - The Light Rail Transit Line 2 (LRT-2) partial operation from CUBAO to RECTO was start on 14. October 2019. Train will begin between at 05:00 am – 06:00 am. Last commercial Trains will depart from Cubao at 08:30 pm - and from Recto at 09:00 pm
.