Important Information SEPTEMBER 2020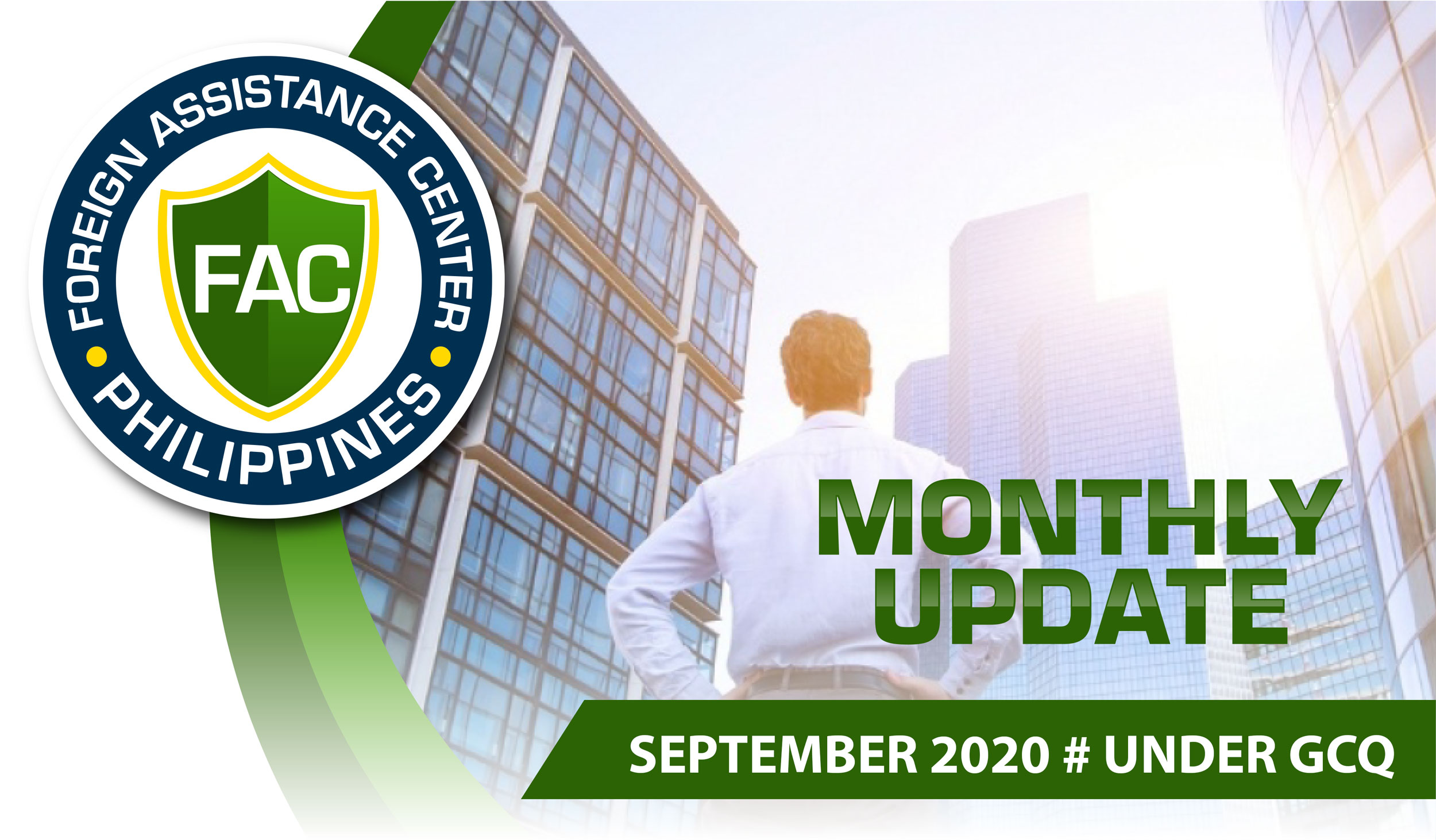 SEP 2020 Japan will allow Foreigners with proper Visas to re-enter after leaving the country.
China has in August 2020 relaxed the Corona Entry Requirements for 36 European Countries, including Germany, France and Great Britain. All Traveler with Reresidence Permit for China can apply Visa without Letter of Invitation.
NLEX / SCTEX starting 02. NOV 2020 with 100 % Implementation in all Toll Lanes with RFID to control the spread of Covid-19
All DHL Overseas Deliveries to the Philippines to need Sharper Controls regarding Covid-19 Regulations.
All accredited Immigration Agent's obtained on presentation RAPID Test, sign special Affidavit regarding new Covid Restriction and Law a new ID Card valid until 2021. Advise to all Foreigners to ask for valid Government ID from Bureau of Immigration - Have you got any ID ?
We offer Assistance and process for your Employee AEP under the new Online Requirements. Inquiry to Diese E-Mail-Adresse ist vor Spambots geschützt! Zur Anzeige muss JavaScript eingeschaltet sein!
NOTE to all Travelers to Boracay - Before Departure you need an confirmed booking with a Department of Tourism-accredited Hotel from the Island BORACAY !
We extended our Exclusive Program for Lifetime Visa & Lifetime Work Permit.
All Applicants / Companies we process (GCQ) under limited workforce.
NOTE to all FAC client's - A strict "BY APPOINTMENT ONLY POLICY" will be requested
NOTE – all Foreign must filing the first NBI Clearance at the Main Office. You need Assistance - Inquiry to Diese E-Mail-Adresse ist vor Spambots geschützt! Zur Anzeige muss JavaScript eingeschaltet sein!