Important Information OCTOBER 2020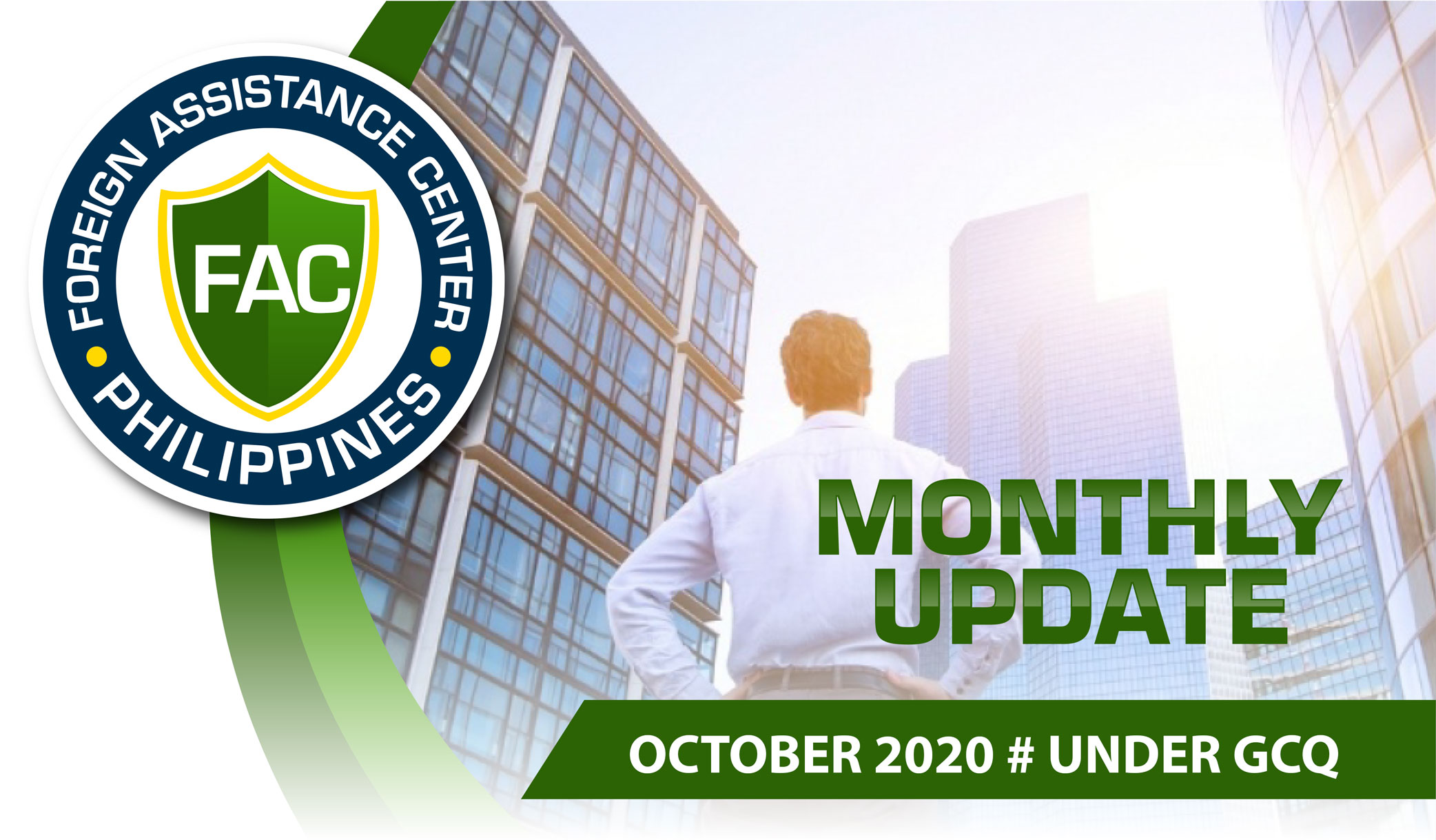 Airline Trade Group International Air Transport Association (IATA) has said Airlines expect a 55% decline in 2020 Air Traffic
On 30. SEP 2020 signed 16 Pharmaceutical Companies an important Agreement with Bill & Melinda Gates Foundation - Among other things, the Companies have agreed to Cooperate in the Manufacture of Vaccines. They want to increase production Capacities faster than ever before and ensure that Vaccines can be used everywhere as soon as possible
MMDA closes another U-turn Slot along EDSA on 12. OCT 2020 - Drivers going south may take the U-turn slot after Congressional Avenue (in front of Landers) while those going north could traverse the U-turn slot after the Quezon Avenue Service Road, under the Quezon Ave
Metro Manila mayors eye MGCQ in NCR by November - If the trend continues, and if local government units continue to impose discipline in our constituents, I believe by end of October we can end GCQ, hopefully, with God's grace, this coming November we may shift to MGCQ if the President allows it
Swab Tests enacted for follow Employees Occupational Category:
Hotels

Restaurants

Mall's

Supermarkets

Vendors Drivers

Markets

E-Trikes Pedicabs

Tricycles

Jeepneys

Buses
Online Registration of Companies for AEP located only in NCR
The FAC offered nationwide process Renewal of ACR Card (Inquiry – Diese E-Mail-Adresse ist vor Spambots geschützt! Zur Anzeige muss JavaScript eingeschaltet sein!)
Curfews removal in October ? Curfews in Metro Manila are unified, beginning at 10:00 PM and ending at 05:00 AM in the morning. But the Deliver Service 24/7 added in the Metro Manila to help the Economy
Overstay & stay for good 36 month in the Philippines

-  The Bureau of Immigration has ordered the Blacklisting of 11 Chinese Nationals for Overstaying in the Country All 9(a) Visa Holders get by Extension stay for good already 3 years in the Philippines automatically "

ORDER TO LEAVE

" including requested NBI Clearance & ECC
All Visitors or returning Residents from outside DAGUPAN CITY (Pangasinan) must register Online before they could be allowed to Enter the City – http://gopangasinan.ph/ Philippine Central
Bank Disqualifies Bankers Linked to Wirecard
No Travel Pass needed for essential workers in Provincial Buses
Medical Front-Liners and those working in vital industries are exempted from the Travel Authority Requirement especially if they are living in the Provinces and working in Metro Manila
The 5 G Network is now available to Prepaid Users with compatible Handsets & SIM Cards publish SMART
We process under GCQ Terms to keep doing Permanent Visa Application regarding 13(a) Visa and SEC 13 Visa
All Client for 9(g) Visa Application must be schedule 8 to 10 weeks handling time about Pandamic Restriction. Clients to require Apostille or Appointment by DFA to have a long wait. (4 to 6 weeks)
.