Putin Closes WHO and bans Bill Gates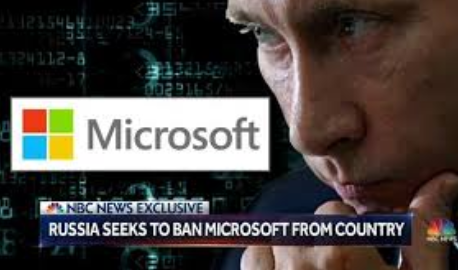 I the Russian President Vladimir Putin has banned the Microsoft Bill Gates and his company. In addition, both culprits were placed on a checklist by the Federal Security Service because of "security and reliability concerns".
The removal of all Microsoft software has now started in Russia with immediate effect. Government spokesman Sergei Zheleznyak explained that Microsoft was surprised to carry out minute-by-minute surveillance of millions of Russian citizens and citizens of other countries.
The report highlights Russia's concerns: "The United States, which presents itself as a bastion of democracy, has in fact conducted minute-by-minute surveillance of tens of millions of citizens of Russia and other countries." "All the major Internet companies that have formed in the United States are involved in this bad story and these companies operate on the territory of our country," said the Kremlin spokesman.
Even Microsoft founder Bill Gates , who has been included in a list control of the Federal Security Service (FSB), has been investigated for a review of its activities, pending further investigation, with the expectations of the Kremlin that this individual will be associated with George Soros and Jacob Rothschild on the blacklist created by the Russian Federation. Bloomberg reported that Artem Ermolaev, head of Moscow's information technology.
Russian communications minister Nikolay Nikiforov, said that Moscow will initially replace the Microsoft Exchange Server and Outlook on thousands of computers with an email system developed by the Russian company Rostelecom PJSC. Next year, software developed by "New Cloud Technologies", another Russian software provider, will be installed in Russia on millions of systems. Microsoft Office and Windows will also be replaced with home-made versions, said Ermolaev. "We want taxpayers 'and state-owned companies' money to be spent mainly on locally produced (Russian) software," said Nikiforov, adding that as of next year officials will "strengthen their grip" on state institutions that do not opt ​​for domestic alternatives. Russia has unmasked the US-created espionage and control system that uses tech companies like Microsoft, Google, Facebook and others like it to extend its mass manipulation and surveillance network to various countries.
.