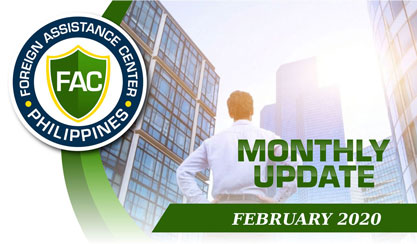 Annual Report 2020 - In Accordance with Opperation OrderJHM-2019-011 al registered Foreign shall by the 29th of February 2020 at the latest report in person or accredited Agent wirth SPA, to the Bureau of Immigration. According to BI Commissioner Jaime Morente, the Annual Report of Aliens is required under the 1950 Alien Registration Act, and that failure to comply may result in fines, Cancellation of Visas, or Deportation.
NOTE - every Applicant in ECC process to forget the last Annual Report must pay yearly 2.000 Peso Penalty.
Example - 2018 and 2019 don't pay Annual Report - process 2020 the Applicant must pay incl. Express Lane Fee - 5.420 Peso.

NOTE - 47(a)2 Visa Holders (PEZA) are exempted from ACR I-Card Requirement.

NOTE - The Process Fee (accredited Agent) for "Annual Report" ughtn't 1.200,- Peso's to outvalue !
NOTE - Foreign Nationals working in the Philippine are no longer required to be registered with Pag-IBIG,Foreign can be refunded by filing an Application for claims.

NOTE - The Department of Labor and Employment (DOLE) eyes to Foreign Nationals who were employed in the Philippine without the necessary Work Permits.
NOTE - New Application for Overstaying for more than Six (6) Months, also new requested detailed Afidavit of Explanation.
NOTE - Foreign direct Investment plunged to 5.1 Billion USD from January to September 2019, a 37% drop compared to the same period the year before, the Philippine Central Bank said on 10 DEC 2019
NOTE - The Department of Tourism publis that 82.121 German Tourist visit 2019 (JAN-OCT) the Philippines.
NOTE - Bangko Sentral ng Pilipinas (BSP) announced that the new P20 coin will be rolled out in the first quarter of 2020. It will co-exist with the P20 bill, which will be removed from circulation through natural attrition.
The Bureau of Immigration (BI) said it arrested more than 2,000 illegal aliens in 2019 as a result of its intensified campaign against Foreigners who violate the Country's Immigration laws. The Bureau of Immigration (BI) said that its operatives arrested in 2019 more than 400 Foreign Fugitives who hid in the Country to evade prosecution for their crimes.

Immigration Authorities at the Ninoy Aquino International Airport (NAIA) have reported another modus operandi of Human Trafficking Syndicates wherein female victims are made to pose as nannies of minor children so they could evade Immigration Scrutiny.

BI Commissioner Jaime Morente said in a Statement, "2020 will be the year that they reap what the have sowed in Terms of Improvements laid out in the past years. We open the year with a 2020 vision of what's in store for the Bureau, we have laid out numerous improvements for the past years, now it's time to see how these changes have improved the system,he added"

The Bureau of Immigration (BI) has posted a record high income of more than P11 billion last year, up by 29 percent than its revenue in 2018.

Immigration Commissioner Jaime Morente on 21. January 2020 suspended the accreditation of an Agency after it was reportedly caught duplicating approved Visa Orders
.