Binay asks PNoy to release P2-M blood money for OFW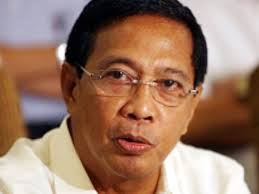 Vice President Jejomar C. Binay has written President Aquino to urge the release of P2 million that will be used as blood money to enable the release of overseas Filipino worker (OFW) Jonard Langamin who is currently languishing in a Saudi Arabia prison. Binay, the Presidential Adviser on OFW Concerns, said he has also asked the Department of Foreign Affairs (DFA) to expedite the release of the blood money so Langamin can spend Christmas with his family.
"Let's hope and pray for his immediate release. At least he has already been spared of beheading," Binay said. Once the needed amount has been given to the victim's family, the Dammam High Court will schedule a marathon hearing for the closure of the public right aspect of the case and eventually decide on Langamin's immediate deportation, Binay explained. Langamin, a seafarer, was charged with killing compatriot, Robertson Mendoza, in 2008 in Dammam, Saudi Arabia. Mendoza's family initially asked P5 million as blood money but this was lowered to P2 million after Binay intervened and reconciled both families in 2012. Langamin was expected to be released in March, 2012, after Mendoza's father signed a tanazul or affidavit of forgiveness. A Saudi court, however, ruled that Mendoza's mother, Rosemarie Santiago, should be the official representative of the family, further delaying Langanim's release. But last Nov. 3, Judge Sheikh Ahmad Najmi Al Otaibe accepted the tanazul presented by Santiago and only the payment of the P2-million blood money was needed to complete the process. In a report last May, the DFA disclosed that more than 3,000 OFWs have been languishing in foreign jails since last year while 800 others have died due to illness and accidents. In its yearly accomplishment report, the DFA said that a total of 3,154 OFWs were in jail at the end of 2013 while 883 remains of OFWs were repatriated to the country. Most of the imprisonment and deaths were in the Gulf region, which is a key destination for Filipino workers. According to Foreign Affairs Undersecretary Rafael Seguis, who had served as ambassador to Saudi Arabia, common offenses committed by Filipinos were possession of liquor, which is banned in Arab nations; theft or embezzlement; immorality; drug trafficking; murder; and traffic violation.