Safe Streets and Public Spaces Act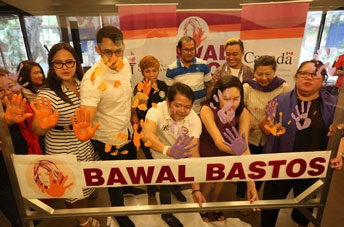 Lambasted on multiple occasions over lewd jokes directed at women, President Duterte will be the first to obey the recently signed "Bawal Bastos" law, which imposes stiffer penalties on gender-based sexual attacks, Malacañang said yesterday. Presidential spokesman Salvador Panelo said Republic Act 11313 or the Safe Streets and Public Spaces Act demonstrated how Duterte recognized the need to prevent gender-based sexual harassment. "Since the President signed that law, it means that he recognizes the need [for] that law. And since he is the chief enforcer of all laws of the Philippines, he will be the first one to obey the law," Panelo said. When Duterte cracks lewd jokes, he is not being obscene, Panelo said, and that the jokes are meant to entertain his audience and not to offend. "First of all, you've assumed that the President is bastos (lewd), naging bastos (that he was ever lewd). He never was bastos. When he cracks jokes, it was intended to make people laugh, never to offend," Panelo said. "If you will just listen to the jokes of the President talagang matatawa ka eh, matatawa ka (it will really make you laugh). Audience … 'di ba, they give a hearty laughter. Hindi naman bastos (it's not lewd)," the Palace official said.
Duterte signed the measure last April 17, but Malacañang only released it to the public on July 15. The new law places cursing, catcalling, wolf-whistling, leering, taunting, misogynistic and sexist slurs, persistent telling of sexual jokes and use of sexual names, among others, as gender-based street and public spaces sexual harassment. The specified acts may be punishable by community service of 12 hours up to arresto menor or 11 to 30 days imprisonment for the third offense. Other unlawful acts, such as making offensive body gestures at someone, exposing private parts for the sexual gratification of the perpetrator and stalking, to name some, may receive the harsher punishment of imprisonment of up to a month and one day and up to six months under the law. Duterte, known for publicly flirting with women, has frequently drawn flak for joking about rape, kissing women during public events and remarks that did not sit well with people including those from women's groups.
In May this year, Duterte cracked one of his latest rape jokes while pardoning cadets at the Philippine Military Academy during their graduation rites. "Iba kasi iyong pambabastos (lewdness is different). You women should know that. Iba ang dating ng bastos at saka iyong magpapatawa lang (the intention to be lewd is different from that of making people laugh)," Panelo added. Panelo was quick to say that any offended party may file a criminal charge, as provided by law. Pressed further if Duterte's personal attacks against Sen. Leila de Lima could be covered under Bawal Bastos, Panelo said he thinks it is not a crime. "I don't think that's a crime," said Panelo, who is also chief presidential legal counsel. In various public events, Duterte has criticized De Lima, most of the time issuing below-the-belt attacks. The President also threatened to release an alleged obscene video against De Lima, who has criticized Duterte over alleged extrajudicial killings related to his administration's drug war. "Ganito na lang (let's just put it this way), if the President commits any violation of any law, then any person can sue him for that violation. If you argue that, 'Well, he is immune,' well you can always sue him after the presidency," Panelo said. "No one is above the law, including this President, and he always tells us that," Panelo added. (philstar global)