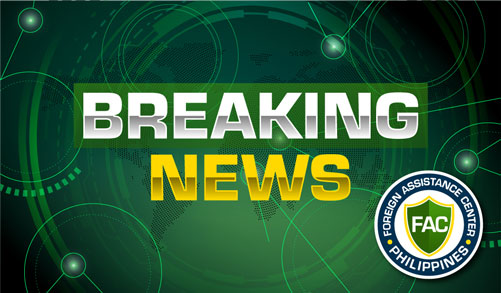 The Bureau of Immigration (BI) announced that they will temporarily be allowing foreign nationals with approved and implemented visas but awaiting release of their Alien Certificate of Registration Identity Card (ACR I-Card) to depart the country.
Said announcement was in light of the Enhanced Community Quarantine and Stringent Social Distancing Measures directive from Malacanang. Regular procedures require departing aliens wtih approved visas but pending ACR I-Card to secure a Waiver at the BI's main office. "We will no longer be requiring ACR I-Card Waiver Orders for departing foreign nationals.
With the rapid spike in COVID-19 cases, we were prompted to make additional measures to lessen person to person contact," said Immigration Commissioner Jaime Morente. In lieu of the ACR I-Card Waiver Order, the requirements to be presented in the airport are as follows:
Passport with valid visa, as indicated in the implementation stamp, official receipts of the ACR I-Card Waiver Application Fee and Emigration Clearance Certificate (ECC) with Returning Permit (RP) or Special Resident Certificate (SRC), whichever is applicable. Morente further advised departing foreign nationals to keep said requirements as the same will be needed for when they enter the country again under their respective visas.
In accordance with Executive Order No 24, Series 2020 ordered LIQUOR BAN in all Supermarkets.
Follow the strict Government instructions about "ban on going out" ! Time period - 08:00 PM to 05:00 AM
The US military has cancelled large-scale exercises involving thousands of troops in the Philippines in May due to the Coronavirus Pandemic
San Miguel gives 560,000 kilos of rice in Metro Manila.
BIR stretches deadlines on tax payments.
83 electric co-ops give customers one-month extension to settle Electricity Bills.
Most Bank's in the Philippines extended loan and credit card payment due dates by 30 days.
.