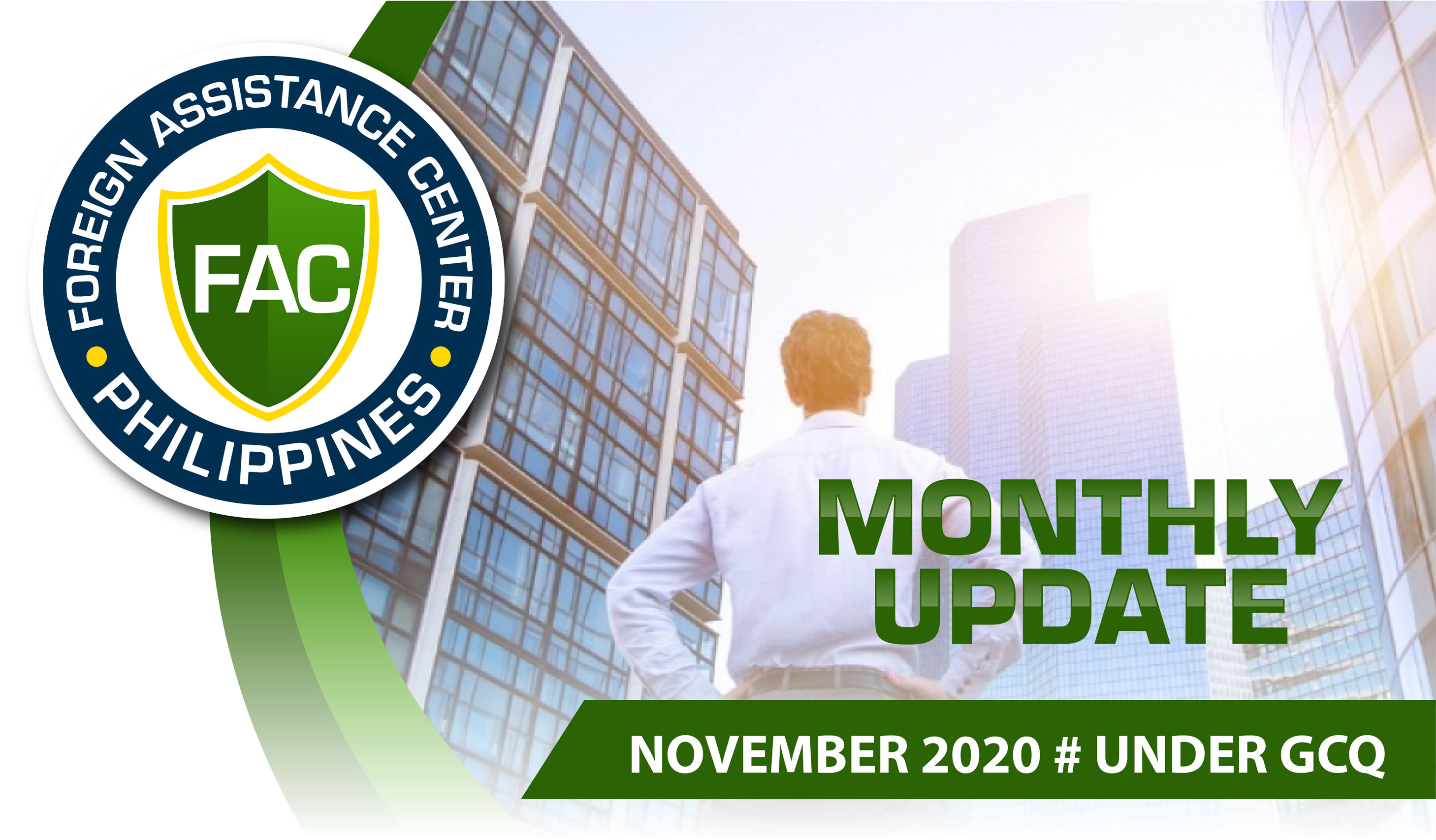 Accredited Entities Exemption from Online Appointment
Advise - Request for Certificate of Accreditation or ORDER Don't dealing with "Fixer or Swindler" - always request for OR !
GCQ in Metro Manila extended until November 30
Inter-AgencyTask Force # Foreign allowed Entry into PHP
Beginning 01 November 2020, the following Foreign Nationals may be allowed Entry into the Philippines:
NON-IMMIGRANT VISA UNDER RA NO. 8756

PEZA Visa 47(a) 2 RESOLUTION NO. 80 Series of 2020 Visa over Economic Zone and Freeport Authority

EXECUTIVE ORDER NO. 226 July 16, 1987
Philippine Retirement Authority suspended all Transactions until 30. October !!!!!!!

New Application, Cancellation of SRRV, Renewal of ID Card etc. is suspended beginning 23. OCT 2020 until further Notice.

The FAC Immigration Consultancy help Foreign by Travel Restriction
The FAC process your Immigration affairs
like Overstay over 6 month

Renewal ACR Card Probationary or Permanent non Quota 13(a) Visa


Retirement Visa (SRRV)

Downgrading Express by Emergency Assistance

by NO Extension with stay over 3 years in the Philippines

Process of Overstay over 6 month until 10 years and much more
Hotels (GCQ & MGCQ) perhaps after all reopen in November
All Hotels and other Tourism Establishments in areas declared to be under GCQ are required to secure a DOT Certificate of Authority to Operate for Staycations prior to Accommodating any Guests for Staycation
Bangko Sentral ng Pilipinas proposed increase Deposit
Government & Banko Sentral ng Philipinas discuss the possibility of a higher Maximum Deposit Insurance Coverage (MDIC) between worth 750.000 to 1 Million Peso from the current 500.000 Peso
2,700 Chinese with Overstay Visa must to leave the Philippines
In a Statement on Tuesday, Immigration Commissioner Jaime Morente said that, from January to October, the Bureau ordered 2,736 Chinese Nationals to leave for Violating the conditions of the Visa Upon Arrival.
Philippines among nations facing debt payment shock next year
The scenario, in turn, threatens to further deteriorate the fiscal house of Asian economies, but most especially Indonesia, Sri Lanka and the Philippines where foreign debts accounted for over a third of total liabilities. (Source: Moody's)
Makati Subway Project start planning process
Philippine Infradev is building a $3.5-billion subway that will traverse the central business district of Makati City. The project will have 10 stations across a 10-kilometer line. Plan 2025 the Subway is expected to carry about 700.000 Passengers
Gov't borrowings hit P2.56 trillion
The government's gross borrowings in the nine-month period surged by 179% from the 917.282 Billion Peso recorded a year ago.
Re-Opening of Sports Bars in Angeles City
On 20. OCT 2020, the Angeles City Task Force (EREID) to discuss guidelines for the Re-Opening under new concept under the COVID19 Restriction.
El Nido stepwise Reopens Tourism Sector
The expanded travel bubble would allow tourists to enter the island,provided they undergo and submit a negative RT-PCR test result at least 72 hours before their Trip.
Each Rat pay 5 Peso
Mayor Jayson Sagumtown of Twon San Luis, Province Pampanga gazetted new Business Idea by doing pay 5 Peso for each "Rat Tail" surrendered to the Municipal Agricultural Office. Rolando Ramirez, of Barangay Sto. Tomas was among the early birds on Friday at a desk set up at the town hall's ground floor to claim the payment for 418 Rat Tails, amounting to 2,405 Peso
Inquiry: Diese E-Mail-Adresse ist vor Spambots geschützt! Zur Anzeige muss JavaScript eingeschaltet sein! or Emergency to WhatsApp +639393554151
.